For the Greater Good
    In 2017, Oregon Health Authority estimated that of the 63,888 residents in Coos County, 397 of them were homeless. A year later, this rate increased to 940, and then to 1,299 at the start of 2019. This trend continued on after 2020, when Oregon as a whole had a 22% increase in their homeless population. Why was it that Coos County saw such a surge in numbers? While there are various paths to homelessness–elevated housing prices, medical bills, and substance abuse to name a few–there are not many clear paths to recovering from homelessness. It's evident that these people need help, but how to help is a commonly debated topic. And one of the biggest questions is if they even want or deserve help at all. 
    Places like the Devereux Center and the At-Risk-Kids Project have serviced Coos Bay's homeless residents for years, providing support for clients as often as they can. Support can be found in the form of food, laundry, showers, and connections with social, health, and legal services. These are just two examples of what the city is doing for those without homes. However, it is difficult to gauge whether or not these programs are actually helping solve homelessness.  
    Some feel as if the help given promotes a sort of dependency–that it encourages the homeless lifestyle and continues to misplace Coos Bay's priorities. Others, however, understand that while a handful of those dealing with homelessness may not utilize the services or even attempt to get help, it's better to advocate for the majority. 
    Being optimistic, they assume the majority do want help, and do deserve it. Essentially, it's better to sacrifice resources for the greater good than not at all. It's important to help those down on their luck, no matter how long it's been. 
    It's obvious that homelessness is not a 'one-size fits all' situation. Different causes of homelessness will require different solutions. While one person may need help achieving sobriety, another may need assistance finding a steady job. Not everyone can be helped at once. 
    Unfortunately, it can never be cured completely, either. This is something the world is going to constantly struggle with. But temporary solutions can be used and have been used. In the past, cities like Portland have bussed their homeless residents out of town completely. Their program, Ticket Home, requires proof that they have a place to stay in whichever state or city in which they are relocated. But many still end up back on the streets–roughly 24%. While there are certain aspects of this solution that make sense, it largely feels like a way to push homelessness onto surrounding areas, or a way to 'clean up the streets.' 

    Currently in Coos Bay, many homeless residents take advantage of food banks and nonprofit organizations such as churches, or The Devereaux Center, to keep their bellies full and get in contact with other state resources to help them. But there are other things the city should focus on in order to better serve the homeless population. Getting these people into housing should be a priority, so opening up more shelters could be one solution. Proof of employment, or at least, progress toward employment, could be a prerequisite for such housing. If there are individuals who choose to remain homeless of their own volition, shelters similar to the ones placed at Coalbank Village in Coos Bay could be placed on the outskirts of town, or outside city limits, to keep these individuals safe and give them a roof over their heads.
    Even though there is no immediate solution, there is one thing everyone can do– volunteer. South Coast Food Share, the Salvation Army, and the Devereux Center are always looking for volunteers. Donations are also helpful, especially in the form of socks and blankets, and can be given to the Devereux Center who will distribute them to clients. 
Leave a Comment
Donate to The Marshfield Times
Your donation will support the student journalists of Marshfield High School. Your contribution will allow us to purchase equipment and cover our annual website hosting costs.
About the Photographer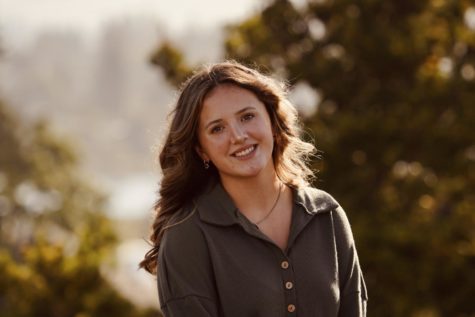 Emma Cornejo, Reporter
Emma is a part of the graduating class of 2023 and it is her first year in journalism. Emma likes to dance, and excessively binge Netflix. She worries...