Sports Shorts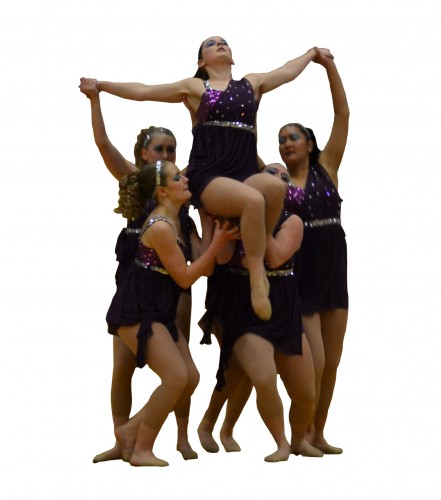 The dance team has been dancing since the end of the summer and are heading into their season with a lot of practice under their belt.
            According to head coach Debbie Brown, the season has gone great so far and she feels like the team's performances have been really strong.
"Everyone has been working really hard, not only in practice but outside of practice too," Brown said.
In addition to the dancers working hard, senior captain Ashley Peters touches on the individual talents each dancer portrays.
"This year's team isn't very large, but I feel we are talented and can be very clean in technique," Peters said.
            As of now, the dance team is only preforming at halftimes and assemblies, but will soon start working on the winter competition dance, otherwise known as the state dance. There are three winter competitions and the team will get feedback on the state routine at each to improve upon.
            Winter competition is the first time the girls are able to compete against other dance teams. According to junior Kaylee Krajcir, they are extremely excited for competition.
            Along with the fun side of competing in the first winter competitions Brown mentions how the competitions are a way of running through the state routine and making important changes. Preforming the state dance or just a part of it at a competition is very beneficial in building up to a final product, according to Brown.
            "My goal for the team is to have the highest GPA out of all the dance teams in the state of Oregon and to always give 100%, not only for me but for the good of the team," Brown said.
Volleyball    
Marshfield volleyball is in full swing and this year stands out compared to years past, according to head coach Tammie Montiel.
            "The girls are really meshing with each other, which is nice to have them feeding off each other on and off the court," Montiel said.
            According to Montiel, the team's ability to come together and work as a single unit helps with intensity and picking a player up if they are having a bad game.
            Kicking off their season with the summer volleyball camp, Butler, the girls have been very busy with practices, preseason games and tournaments in addition to season games.
            "I always look forward to tournaments just because we get to play some different competition and potentially see some teams that we might match up against in the playoffs," Montiel said.
            The girls are coming up on the end of their season having set a 16-2 overall record and so far swept the league with an 8-0 record. According to Montiel with so much success in their season, the girls have set their goals high for this year's outcome.
            Sophomore Shaylynn Jensen has set goals not only for herself, but for her team as well.
"Our goal as a team is to make it to state, but first we have to win league and then focus on placing at state," Jensen said.
Senior Abby Clough feels the same about the team's goals as Jensen does, and also mentioned the fans who show up and support their team.
"Having everyone there to support us is great, I always look up into the crowd to see my friends and people I know. Just to know that people are there supporting us means a lot to me and the rest of my team," Clough said.
Along with the support and success of the team, Montiel is very excited for the future.
"Overall, I would like to see the team place at state and play the best that they can. I feel like this team is very special and will always do their best for the team as a whole," Montiel said.
Boys Soccer
Marshfield boys' soccer is coming up on the end of the season and prepping for the state playoffs. According to senior Logan Gates, 1997 was the last time boys soccer went to the state playoffs.
            The entrance to the playoff was not just a given to them, according to Gates. Gates said this season has been different from years past and the team has earned its spot in the playoffs.
            "This season has definitely been one of the better ones because we are going to the playoffs and starting to communicate much better on the field," Gates said.
            The boys have set a league record so far of 5-4, which has earned them one of the three spots into the playoffs, according to Gates.
            Fellow teammate, senior Sergio Osorio, is excited for a chance to play in the playoffs and knows what his team has done to get ready.
            "We have been scrimmaging nonstop to help work on our chemistry as a team and been making sure we have good contact with passing and shots," Osorio said.
            According to Osorio, the team's chemistry and the ability to work together will be the best thing they can do in order to get as far into the playoffs as possible.
            The boys just finished up their last league game against the Douglas Trojans and will start focusing fully on the up and coming playoff game that was yet to be announced at print time.
            "I know my team and I are going to do the best we can in the playoffs by working together and giving it all we got," Osorio said.
Girls Soccer
The girls' soccer season has come to an end with their last game against the Douglas Trojans this past Tuesday.
            The girls have continued to improve over the season, and they will look forward to next season according to junior captain Daisy Caballero.
            With exception to this past Tuesday's game, the girls' league record was 1-5-3. Winning 1, losing 5 and tying 3 games. They finished 5th in the Far West league, placing in front of Coquille/Myrtle Point. The team looks forward to improving for the next season.
            "This year everyone on the team was on the team last year so I feel everyone knows each other's strengths and weaknesses which is very helpful on and off the field," Caballero said.
            According to Caballero and sophomore Rebecca Cowan this season has been really fun but also challenging, as they faced tough opponents.
            "Our season has been really fun and I am glad we are improving in the way our team works together on the field," Cowan said.
            According to Cowan, the team goal this season has been to get better which was in addition to her personal goal of scoring for the first time this season.
            "I have had a lot of fun this season and I cannot wait for next season and to see how much better we get as a team," Cowan said.
            The team is already preparing to improve for next year.
            "Our whole team is looking forward to next year and preparing for next season," Caballero said. 
Leave a Comment
Donate to The Marshfield Times
Your donation will support the student journalists of Marshfield High School. Your contribution will allow us to purchase equipment and cover our annual website hosting costs.