Pirates On Par
As we hit the midpoint of the 2022 Golf season at Marshfield High School, the boys golf team remains undefeated. The boys have been in a few different tournaments, traveling from place to place, and have won them all to date.  
"The boys have a promising team this year and we have a good chance at state," said Mason Pederson, who has been playing golf for two years. "If we all play pretty good at state we have a very good chance of getting second and maybe even first so if we could put up a banner that would be awesome." 
The boys team has three experienced seniors this year: Ben Mahaffy, Ezra Waterman and Mason Pederson. The boys team also consists of juniors Gabe Mahaffy and Oscar day, and freshmen Cody Chandler, Eli Luckman and Logan Noblitt.
"So usually we go against our biggest competitor, Marist, and they usually always win but this year they're not that good," Pederson said. "If we all play pretty good at state we have a very good chance of getting second and maybe even first." 
The team's head coach, Scott Banks, has been coaching Marshfield golf for over 10 years. They are counting on his experience to help them take home a state trophy, which is their goal this year. But being on the team is not just about winning.
"I like just the team aspect of it and just going out to practice everyday, the warm sun is nice," Pederson says. "Honestly, every moment just playing with the boys at practice is my favorite part. Every moment we make, you can just kind of have fun and mess around."
Walking on the golf course can be both challenging and fun. A player always has new goals to meet.
"Hanging out with friends and accomplishing my goals is what makes playing golf fun," said Eli Luckman, who has been playing for two years now. "My goal was to break 100 and last tournament I got a 102."
Pederson says the boys team usually average a score of 315. A good individual score to have would be at least an 85. With most of the boys being able to hit that mark the other competitors will have to watch out. Their strength comes from their practice time at Coos Golf Club. If they have time, they even practice on the weekends.
  At this point in their 2022 season, the girls golf team is optimistic. The girls have a new coach this year, Andrew Simpson, who has helped two of the teammates place first in their last tournament. Other girls placed 3rd, 4th and 6th. 
This year the team has three experienced seniors, Hannah Campbell, Paige Kirchner and Nyssa Hanes. The team also consists of junior Emily Ryan, and freshmen Bella Roberts, Analise McCord and Shay Hesgar.
Freshman Bella Roberts has been playing golf for four years and this is her first year on the Marshfield team. According to Roberts the goal for this year is to make it to the playoffs. 
"I think we can do pretty well, I think we can place in state for sure," Roberts said. 
Their hard work at Coos Golf Course has payed off to date. Like the boys, the girls team even practices on some weekends.
"I think we will do good [at state]," said Hannah Campbell, who has been on the MHS golf team for a year now. "All of the girls on our team have worked super hard to get to where they are now."
For all athletes, golf is a sport that can be played far beyond high school. A player can continue to meet challenges beyond their teen years.
Pederson encourages anyone who is thinking about playing golf to try it. "Just stick with it," said Pederson. "It's a struggle at first but if you just keep going you'll get a lot better and it's a very fun sport."
Leave a Comment
Donate to The Marshfield Times
Your donation will support the student journalists of Marshfield High School. Your contribution will allow us to purchase equipment and cover our annual website hosting costs.
About the Contributor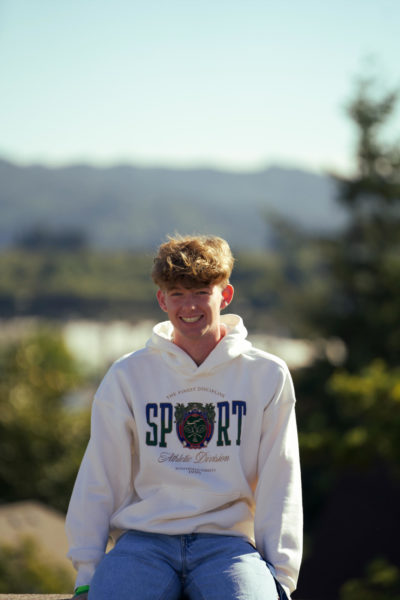 Jonah Putman, Sports Reporter
Senior Jonah Putman is a third year Journalism staff member. He prefers writing sports stories over anything else in Journalism. He enjoys playing soccer...