Movie Review: Catching Fire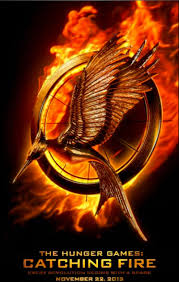 People all over the country lined the streets near theaters on November 21, 2013 to see the first showing of The Hunger Games: Catching Fire. The movie is the second in a series based on the books, by Suzanne Collins, and is directed by Francis Lawrence. The first Hunger Games left big shoes to fill, and even under the pressure, Catching Fire manages to live up to the standards the world has set. Unfortunately, this is not done harmlessly.
The plot is very dark, picking up where The Hunger Games left off: with an angry President Snow (Donald Sutherlin) and a giddy District 12 after the return of not one, but two victors from the 74th annual Hunger Games, Katniss (Jennifer Lawrence) and Peeta (Josh Hutcherson). The Capital is not happy after being played at their own game by Katniss and Peeta, and that is clearly and very brutally taken out on the districts, especially District 12. The brutality in some of the scenes was almost too much for some, like me, to want to see. The 75th annual Hunger Games, the third Quarter Quell, calls for Katniss and Peeta to be called back to the arena to fight to the death once again. President Snow promises that this time only one victor will remain. In the arena, we see some disturbing, stomach turning things produced in the Capital, all leading up to the climax, which brings an unexpected turn of events that will leave you waiting impatiently for Mockingjay, the final movie in the trilogy. Overall, the movie was very well done, despite the intensity and brutality displayed so prominently throughout the film.
Leave a Comment
Donate to The Marshfield Times
Your donation will support the student journalists of Marshfield High School. Your contribution will allow us to purchase equipment and cover our annual website hosting costs.