Multiple whales stranded on the Oregon Coast beaches
Recently, a large number of whales have been washing ashore on the Oregon Coast, from Newport to Astoria. The four whales that have washed ashore have been identified as a variety of breeds, and it is believed that they may have become disoriented due to changing ocean conditions.Scientists are working to determine the cause of these events, as it's  not a common occurrence.  There is still much to be learned about these whales washing ashore, and some have been difficult to identify due to decay. What is clear is that it has a major impact on the local wildlife. 
Tiffany Boothe, a staff member at Seaside Aquarium, believes that the reason they washed ashore in such a short period of time is because of weather and ocean conditions. Strong and constant west winds push dead marine mammals onto the beaches, along with a lot of other marine debris. Each whale that's washed up has had a different story. 
"The first whale to wash ashore was a male gray whale" said Boothe. "The cause of death was determined to be from predatory orca whales.  The sperm whale's death was caused by a ship strike. The baby gray whale was most likely stillborn. The final whale, another gray whale, was too decomposed to determine cause of death."  
The first whale to wash ashore on the Oregon coast was a male gray whale and it washed ashore south of Winchester Bay. The second was a juvenile sperm whale that washed up near the Peter Iredale in Warrenton. The third, a baby gray whale, washed ashore 100 yards north of the sperm whale near the Peter Iredale and the fourth, a female gray whale, washed in on Crescent Beach just north of Cannon Beach. 
Many have theorized that pollution had a role in these whales' deaths. This, however,  is not the case. 
"Pollution was not a factor of the whales deaths," said Boothe. "But there is no doubt that pollution does adversely affect all marine life and contributes to the death of whales worldwide." 
Another thing people have noticed is that almost all of the whales were gray whales, which are some of the most common whales along the Oregon coast. Because of the situation , it's unlikely for those that do die to wash ashore. The death of whales is concerning, especially when it occurs in unusually large numbers. 
Whales are beneficial to the environment in many ways, from regulating ocean temperatures to controlling the prey species. As apex predators, they play an important role in maintaining the balance of the marine ecosystem. When there are odd deaths occurring in a short amount of time, it is a sign that something is wrong and that the environment may be in danger. It is important to investigate the cause of these deaths in order to protect the environment and the species that depend on it. 
To help support marine health, Oregonians are encouraged to limit plastic use and participe in beach clean-up events. It should be noted that eventually everything finds its way to the ocean so it's best to start in one's own neighborhood. 
Newport resident Jim Rice, who also works with Oregon State University's Marine Mammal Institute, had a similar opinion about the recent whale that were washed ashore. He believes that each whale's steering has it's own unique circumstances that lead to the death of each whale.
"Each whale stranding is unique," he said, "with its own series of events that ultimately lead to the animal's demise."  
Pollution can cause a variety of health issues for whales, including blindness, skin lesions, and respiratory problems. However, the majority of whale deaths are caused by human activities such as fishing, vessel strikes, and entanglement and fishing gear. Pollution can exacerbate these issues, but is not the  direct cause of death in most cases. It is important to recognize the impact of pollution on whales and other Marine life, but it is equally important to understand that other human activities are the main contributors to whale deaths.
Leave a Comment
Donate to The Marshfield Times
Your donation will support the student journalists of Marshfield High School. Your contribution will allow us to purchase equipment and cover our annual website hosting costs.
About the Contributor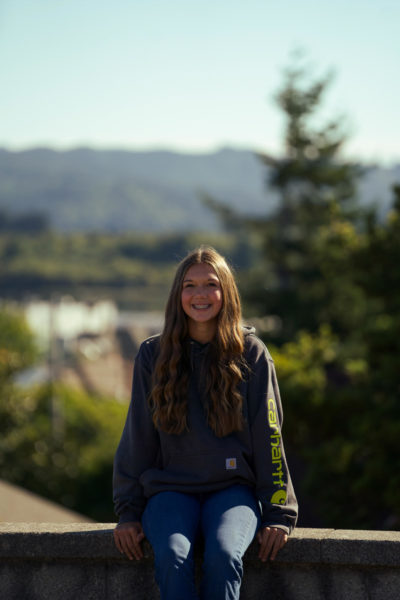 Maya Aguirre, Distribution Manager
Sophomore Maya Aguirre is a second-year member of the 2023-2024 Journalism staff. She is also involved in the Marshfield softball teams, The Marshfield...