Pirates beat Wolverines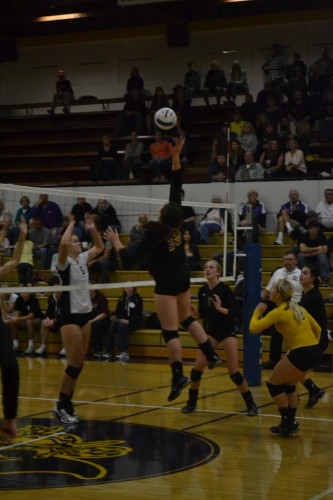 [slideshow]
By Audrey Webster | The Marsfield Times
After securing a league title last week, the Pirates host a play-in game tonight against Crescent Valley, which will determine their playoff run and hopefully a state tournament berth.
Last Tuesday, the team sent the Willamette Wolverines home in defeat.  After three close matches, the Pirates held on to the win 25-19, 25-20 and 25-23.
Overall, the players thought they did not play one of their best games.
"We could've done better," junior middle blocker Hannah Olson said. "I think we came in over confident."
According to senior hitter Kara Young, serving was one of their weakest points during the game, but coach Tammie Montiel pointed out players who contributed to the win.
"Kirby and Hannah had a good game," Montiel said. "Our middles really came alive and made some keys plays and had some key blocks."
The Pirates were happier with their performance last Thursday night in a home match-up with North Eugene that wrapped up their Midwestern League season with an 8-1 record, their only loss coming to Marist. The league championship was a goal the team hoped to accomplish, and Montiel is looking forward to the team's next goal: the state tournament.
"I've been pleased with how we played this season. We've had some big wins and big matches," Montiel
said. "Hopefully that carries over and we'll have momentum going into state."
With a victory tonight, the Pirates are likely to host a playoff game this weekend. If the Pirates can win then, they will move on to the state tournament to be held Nov. 11 and 12.
[wpvideo FtpCR6Hb]
Video by Beau Hunter | The Marshfield Times
Leave a Comment
Donate to The Marshfield Times
Your donation will support the student journalists of Marshfield High School. Your contribution will allow us to purchase equipment and cover our annual website hosting costs.