Who Can Stop Shay?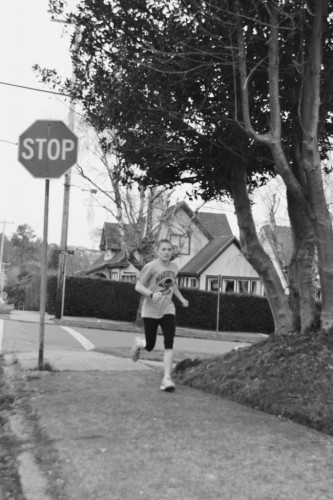 Senior Shaylen Crook is the first female Pirate cross country state champion after winning the title last month.
The stop sign with the words "Stop Shay" inscribed over the top as a simple t-shirt graphic may have taken onlookers at the 2013 4A State Championship cross country meet back to the 1972 Olympic trials when Steve Prefontaine sported the same red shape with the words "Stop Pre" on it.
A t-shirt is not the only common thread Crook and Prefontaine share. Crook and Prefontaine are two of only three individuals to win a state title in cross country at Marshfield High School. Jared Bassett, a 2009 state champion, is the third individual on this list.
Crook won her title on November 2nd, 2013, finishing her 5,000 meter race with a time of 18:20. From the first mile of the race, Crook took the lead and held on through the finish.
"All I could think of at the end of the race was the fact I was done and also that my hand work had payed off," Crook said.
According to Crook, midway through her freshman cross country season she developed her goal to be fast. This goal has taken her through the finish line of her senior year season.
"I decided one day that I didn't want to be a mediocre runner, I wanted to be fast," Crook said.
Cross country coach Doug Landrum said Crook's dedication to her sport grew with her speed each year as she matured.
"Shaylen has steadily improved over the years," Landrum said. "But getting to see her mature throughout her high school years not only as a runner, but as an individual, has been the neatest part of being her coach."
Landrum and Crook first met when Crook was in the seventh grade at some pre-track practices.
"It's been a pleasure and a privilege being her coach," Landrum said. "I'm happy she was able to accomplish this through her hard work ethic."
Recently Crook has met with the middle school cross country team. She spent some time at their end of the year banquet talking to them about some of the lessons and life skills she has learned from cross country. She said she hopes the kids she talked to take home some of the things she said.
"Above all I love running, and a State Championship has capped it off for me," Crook said.
According to fellow cross country athlete Colby Gillett, a junior captain, through all of her triumphs Crook has managed to keep a humble attitude.
"Shaylen has added to the legacy, and there are some lessons she has left the team with that we will never forget," Gillett said.
Crook said she keeps herself humble by reminding herself there is always going to be someone faster out there. She also said she has an inner drive to not lose.
"I really hate to lose, but losing is a quite humbling experience," Crook said. "Every time I run a race I listen for footsteps behind me and even if there isn't any footstep to be heard, I still react as if there were."
Crook is excited to begin her senior track season. She will continue to run throughout her life.
"As long as my body is able I will move my feet as long as I possibly can because running is my passion," Crook said.
Leave a Comment
Donate to The Marshfield Times
Your donation will support the student journalists of Marshfield High School. Your contribution will allow us to purchase equipment and cover our annual website hosting costs.