Low wages, high burnout lead to nurse shortage
Nursing has stood as one of largest healthcare professions within America, garnering nearly 4.2 million practitioners nationwide. These people stand as promoters of health, counseling, and education and coordinate care in a way no one else could. Yet in the time between 2020 and 2021, America has seen a drop by 100,000 working nurses. Many blame the COVID-19 pandemic. The increased workload, coupled with the high-risk environment, led many nurses to feel severely stressed and burned out. 
"COVID pointed out to many that nursing has the potential for contagious diseases, and maybe people don't wanna be exposed to that," said Heather Aldrich, assistant nursing professor at Southwestern Oregon Community College.
Others, however, point to the pay gap between the nurse practitioners and those that have taught them.
"It's difficult, at times, to get nursing instructors because there is a pay disparity," Aldrich said. "Nurses take a pay cut from working at the bedside to coming to a teaching position."
Nurses working on the floor can look forward to shift differentials, overtime availability, holiday time, and more. Those that step off the units to tackle the important job of teaching nurses do not have any of those opportunities.
Although their tasks may be slightly different, the nursing shortage has bled into school nurses as well. Even the Coos Bay School District has been hit. Not only are school nurses difficult to find, but they are also shared within the district. 
"The district currently employs three [school nurses], I believe one at each campus," said school board member Adrian DeLeon. "So Eastside, Millicoma; Marshfield High School, Marshfield Junior High; and Madison and Sunset."
The shared campus nurses is not ideal, but it all boils down to budgeting. Unfortunately, DeLeon has noted that as COVID-19 pushed so many nurses to their limits, more and more organizations tried to make up for it by introducing bonuses. While the increase in pay is what many nurses, especially those involved in walk-outs, wanted, it's been detrimental to our schools. 
"It basically raised all the wages for nurses in those areas," DeLeon said. "When you try to hire a nurse for the school district the rate of pay is not necessarily as high."
Because of this, the position is hardly glamorous and is appealing to very little. But a brave few have stepped up. One such person is Krista Spencer, the Marshfield High School and Marshfield Junior High school nurse. While she never saw this in her cards, it's something she still looks forward to each day. There have been some issues though–nominally with her salary. 
"Unfortunately, the lower salary that school nurses get compared to hospital nurses is significant enough that many can't financially switch roles," said Spencer. "I know this was a challenge I had to consider when I took on the school nurse role, but I can make it work by supplementing my income." 
She does so by working at the hospital on her days off, which include some weekends and school breaks. 
In her position, Spencer is required to switch schools often–spending varying amounts of time at each school. The issue lies, however, on who has to cover for her. These are often staff members at the schools who are trained by the nurse herself to do certain tasks, such as dispense over-the-counter medications, or distribute Band-Aids. 
"The non-medical staff that have to cover the nurses are already busy with their own duties," said Spencer. "So it becomes a very stressful burden to ask them to do more when that nurse is scheduled at a different location."
Taking time off is even worse.
"There's no one to cover for us," she said. 
If a nurse gets sick, that means a day without a nurse at the campus where they are assigned–a dangerous prospect should anyone have an immediate medical need. Budgeting has a lot to do with the availability of nurses within CBSD, and it has been a current issue in the contract negotiations between Coos Bay Education Association and the district.
The school district isn't alone in this. In fact, according to a report by the Department of Education, just seven percent of Oregon school districts have full-time access to a school nurse. The district is supposed to employ a ratio of one nurse for every 750 students, but it seems that this is hard to follow up on since only four percent of school districts actually meet this ratio. The nurse-to-student ratio is six times higher statewide. Furthermore, 30% of districts have reported no nurse access at all, though there has been a five percent increase in them statewide. Oregon as a whole isn't doing so hot apparently, seeing as they rank decently low in terms of school nurse access. 
All in all, it seems like it could be a pay issue that prevents Oregon students from receiving the care they need. Spencer has stated that the pay scale school nurses operate on is similar to the one's teachers use, where the pay increases with the amount of education and/or years of experience. The starting salary for a nurse with a bachelor's degree at CBSD would be just 5% more than $40,435.  They also receive an additional $6,520 per year stipend. According to the Oregon Employment Department, that same nurse with a bachelor's degree could make $100,867, on average, working elsewhere in the healthcare field.
"I think the pay for educators or school programs probably needs to be brought up to what a school nurse would make in a healthcare setting," said Aldrich. 
Such a great pay difference makes it difficult to hire nurses with experience who want to work in a school. At this current time, schools are aware of the disparity, so the outcome of a school nurse shortage will most likely hinge on whether or not schools budget the money to correct the imbalance.
Leave a Comment
Donate to The Marshfield Times
Your donation will support the student journalists of Marshfield High School. Your contribution will allow us to purchase equipment and cover our annual website hosting costs.
About the Contributor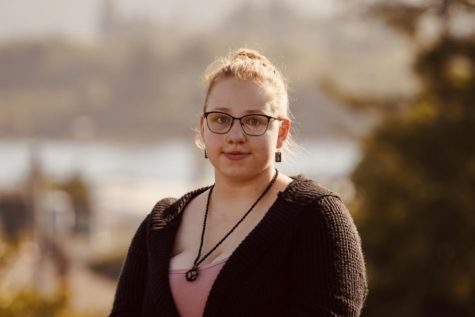 Aubrey Brooks, Copy Editor
Senior Aubrey Brooks is continuing her second year with The Marshfield Times staff. Most of her time consists of trying to knock books off her reading...