Rain or shine, we play on
Track and field is just one of the many spring sports offered at Marshfield High School. Just last season, the boys track team were state champions, so they've already been working every day after school to try and duplicate their win. As with most spring sports, practices are held outside, and unpredictable weather can make or break the perfect training day. 
"While I would much rather be inside, the fresh, cold air does feel nice when you're working and sweating," said sophomore Jonah Martin. "To prepare for the colder meets I make sure to have a longer warm-up."
When the weather becomes sunny, the time outside is great. However, no two springs are alike; this year it has rained and snowed further into the season.
"Practicing outside is super 50/50," said junior Alyrian Covey. "Sometimes it's cold and rainy, and other times it's nice and sunny. Weather is a big factor in how we perform because it's super cold and it's difficult to stay warm before a race or workout." 
Coming off of a state championship title, the pirates are looking up to their coaches to help them win state back to back. This season, runners are coached by Steve Delago. He has been coaching the runners for many years now. He also coaches the Marshfield boys and girls cross country teams.  
"We all have our own personal and team goals we're reaching for, it's a process," Covey stated. "Coach Delgado is really helpful and has helped me improve a lot." 
Another set of events for track and field are the jumping events coached by John Vinyard, a former MHS track and field athlete. The jumping events consist of long jump, triple jump, and high jump.
"He trains us all a little differently depending on what our strengths and weaknesses are," Martin explains. "He's helped me by teaching me how to be more confident, he knows what it's like to be an athlete and to want to get better."
For the throwers, they have MHS history teacher and head coach Chad Scriven to lead them to victory. The pirates are depending on his experience to take them to the next level.
"He is one of the best coaches I've ever had, he helps me work on specific things I ask for," stated junior Chance Browning. "He has a lot of experience and is always ready to help out."
Pole vault, another field event in track and field, is being coached by Steve Puckett. The Pirates have three returning state qualifying and state placing pole vaulters, reigning state champion John Parks, and state-placers Danner Wilson and Trent Summers. They plan on working hard and improving with the help and experience of coach Puckett.
"Coach Puckett is the best, " explains Junior Danner Wilson. "He really knows what he's talking about and he makes it a whole lot more fun."
The girls, on the other hand, are working hard to make it to state in their events. Last season, they had Bailey Wallack placed in state in the 400-meter, and Aly Clark, a jumper, also went to state. This season, the girls will have more experience to exceed expectations.
Leave a Comment
Donate to The Marshfield Times
Your donation will support the student journalists of Marshfield High School. Your contribution will allow us to purchase equipment and cover our annual website hosting costs.
About the Contributor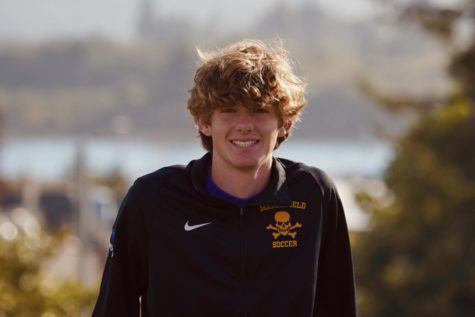 Jonah Putman, Sports Reporter
Junior Jonah Putman is a second year journalism staff member. He prefers writing sports stories over anything else in journalism. He enjoys playing soccer...