Pirates equestrian team rides into the next show
Students at Marshfield interested in riding horses are invited to join the Marshfield High School Equestrian team, which takes place in competitions through Oregon High School Equestrian Team, or OHSET. Having a horse is not a prerequisite for joining, as horses may always be borrowed or rented. The goal of the team is to help raiders become better at equestrian sports.
Mike Sneddon, coach of the MHS equestrian team since 2013, also works as a firefighter at Charleston Fire & Rescue. He has been riding horses since he was a child, first rounding up catte, and later gaining experience in showmanship. Each competition the team takes part in includes 5 individual events.
"My favorite event is team sorting," said Sneddon. "The object is to separate the cows one by one in numerical order, starting with your assigned number." 
MHS senior Sienna Mahaffy is a member of the team, and has been riding before she could walk. She is hoping to get a state scholarship from her involvement in OHSET.
"Anyone can join OHSET," said Mahaffy. "The mission is to provide a safe and fun environment for high school students to ride their horses and participate in a team sport."
The first practice of the week is optional, as it's mostly for the drill team. Not only do drills help keep the horses in shape, but it helps get equestrian team members ready for spring OHSET meets. The state equestrian competition takes place in May each year. 
Another member of the team, Miya Apple-Brigham, has been riding for a few years. Her trainer told her about OHSET and encouraged her to get involved. Like Mahaffy, she is also looking to continue working with horses when she goes to college. 
"The mission of OHSET is to improve and just be better," said Apple-Brigham. "There are a lot of colleges that have an equestrian team, so there might be scholarships for those schools."
Although she didn't grow up around horses, she started riding at a barn a few years ago. She loves spending time with the animals and enjoys each practice and competition. Her favorite event is Western Horsemanship, where riders perform a series of maneuvers which showcase the rider's skill. 
"The meets are so fun," said Apple Brigham. "And you get to meet equestrians from all over the state."
Freshman Autumn Leffler was in 4-H for a few years before joining the equestrian team. Her favorite event to compete in is barrel racing. 
"The adrenaline before you go into the arena is fun," she said. "I've met some pretty close friends on the team and through equestrian sports."
Those interested in joining the team should contact Mike Sneddon or an equestrian team member in October, when they hold a meeting for new members. It will also be in the school announcements. OHSET can provide a state scholarship for students at MHS to help cover the costs of participating. Middle school students might be able to help out with the team by grooming horses or helping with saddles.
Leave a Comment
Donate to The Marshfield Times
Your donation will support the student journalists of Marshfield High School. Your contribution will allow us to purchase equipment and cover our annual website hosting costs.
About the Contributor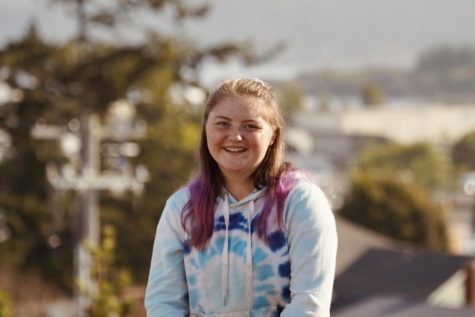 Destiny Grissom, Distribution Manager
  Destiny Grissom is a senior at Marshfield high school and happily attending her second year in journalism as the distribution manager. She joined journalism...