Get thrifty with it
Thrifting and upcycling clothes, while hailed as a way to save a couple bucks, also ensures that items aren't wasted and won't contribute to the estimated 11.3 million tons of textile waste that ends up in landfills. In Coos Bay, thrifting also becomes a sustainable alternative in a geographic area that is not overflowing with shopping options. Note that thrifting and upcycling are two separate things although upcycling can involve thrifting. Upcycling clothes is taking a piece of clothing and turning it into something more fashionable or something that may be more enjoyable to wear. This could be clothes from the back of the closet or something cheap that can be found in any store, second-hand or not. The purpose is to reuse these clothes instead of throwing them out.
"It's better for the environment to not have fast fashion be overproduced," said Ella Jane Brigham-Saunders, a senior at Marshfield High School and a consistent shopper at Thrifty Sisters, Bree's Upscale Resale, and Time Bomb. "[It's] better for the environment and better for your wallet." 
With the increased price in clothing, thrift store usage has been on the rise. In addition, more and more people look to upcycle clothing every year.
"I would say that when we first started thirteen years ago, people weren't thrift shopping," said Angie Appel, co-owner of Time Bomb. "They would go to Macy's or the mall, even how sparse it is. They would step in Time Bomb and not understand how it works. Slowly, I think the trend of buying used, thrifted clothes and even DIY, like altering things and making them your more personal style, has gotten more popular, which I love."
Thrifting has become more appreciated by the media and by environmentally-conscious individuals, as it is viewed as a way to slow down pollution. With thrifting, there would be a decreased demand for fast fashion, which produces around a tenth of the world's carbon emissions.  
Much of the items at Time Bomb are recycled, another key factor in reducing emissions of greenhouse gasses and water pollution and preventing harm to the Earth for future generations.
"We make our own jewelry, some of it is out of recycled things, for the most part I just buy, sell and trade," said Appel. "I'm getting it out of, what would be, landfills–repurposing it and finding it a new home."
In supporting stores like these, communities can contribute to the prevention of products making their way into landfills. It is one small step that anyone can do to reduce waste and help local businesses.
"The community has stepped up and really supported us," said Appel. "I noticed that after the pandemic, this community reached out to local businesses and kept us going."
Any individual who wants to stop the spread of fast fashion and start thrifting and upcycling can easily get involved. It doesn't have to be complicated, or even a very big project. It can be as easy as cutting up a shirt or a pair of pants to make them fit better. There are small steps that can be taken to improve on previously worn clothing. Brigham-Saunders is a big fan of bedazzling clothing.
"It's not too hard to start, you kind of just have to be willing to spend a lot of your time there if you want to find the good stuff that's hidden," said MHS sophomore Grace Hamner. "But sometimes it's just there and has like an aura around it." 
Thrifting may require lengthy searches to find the ideal item, and it's not a guarantee that one will find exactly what they want, but every so often there are some true treasures. This isn't specific to clothes either, it could be anything from antique furniture to jewelry.
Leave a Comment
Donate to The Marshfield Times
Your donation will support the student journalists of Marshfield High School. Your contribution will allow us to purchase equipment and cover our annual website hosting costs.
About the Contributor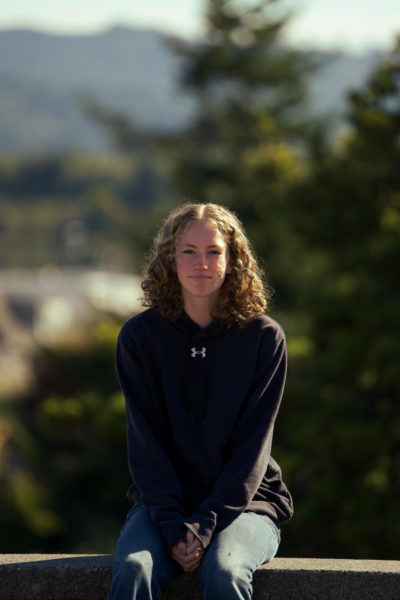 Reanna Mathias, Art and Photo Editor
Sophomore Reanna Mathias is currently in her second year as a member of the Marshfield Times. This year she is the Art and Photo editor and will be focused...