The overlooked sports: Dance & cheer take the sidelines
Cheer has long been a misunderstood sport. Performers don't just hold their pom-poms and cheer for the teams–it's a year of grueling practices and the struggles that come with that. Tryouts occur in late spring, then performers are pushed into the basics of the craft. Practices commence four days a week and the team will attend nearly all school athletic games and competitions on the weekends, plus some on weeknights. 
"Being a cheerleader comes with lots of responsibilities in and out of uniform," said sophomore captain Cecelia Cox. "We spend our whole summer getting sponsors and conditioning for the season in order to be ready to compete in the winter. Aside from that we must keep a peppy attitude and be kind to others."
One issue leading up to the misinterpretation of cheer is the idea that it is not a sport because it involves more work on the sidelines. Spectators don't consider the amount of time cheerleaders spend in practices to perfect each stunt and time each routine.
"The people who tell me it isn't a sport are mainly guys," Cox said. "They say that what we do is easy and they could do it just as good. The problem is that when we offer them a try, they reply 'No, I'm a boy.' This stigma about cheerleading defining a man's masculinity or sexuality is not only inaccurate but also shows how many guys are insecure about their masculinity. A man can be on the cheer team just as much as a man can be on the football team."
While there are no males on the cheer squad at the current time, that has not always been the case. Male cheerleaders are common in other school districts, and have participated at MHS in the past. They are an asset to any team, as it takes a lot of upper body strength to throw fellow cheer members into the air–and to catch them safely after a toss. 
"A lot of people only see the perspective of sideline cheer where they see us on the sides calling cheers and doing dances, which is why I believe most people wouldn't consider it a sport," said junior cheer captain Clara Hughes. "But competitive cheer is a whole different version of cheer and nobody really sees or knows how it is. It's a long and way harder process because of how it reflects on your body and mind. Everyone is so determined to put their all into it and work themselves to the max." 
Competitive cheerleading is when a cheer squad competes against other teams. Teams will perform a two and a half minute routine involving cheers, stunts, tumbling, jumps, and some may even include a dance. These routines are professionally choreographed months in advance, way before the first ever performance. The routine is run countless times so that the participants can master the timing. When the team competes, they're judged based on the difficulty and execution involved in the routine.
One of the biggest struggles is seen in stunting. While sports lift weights, these performers are lifting liberal humans above their heads. These athletes have the responsibility of making sure the person in the air doesn't end up on the ground. Same goes with tumbling; since there is a range with the skills, not many people can acquire the basic levels. Flexibility is a huge part of cheer as well–even the common high v is impossible for the average person to perfect.
Although it is a different sport, the MHS dance team faces similar challenges as they enter their competitive season. Both sports practice year-round, even holding summer practices at times. Yet they are both overlooked frequently when high school athletics are mentioned. 
"I feel like there's a large misunderstanding of both sports as a whole as well as the way our school presents it," said assistant dance coach Ashley Caballero, who has a background in both competitive dance and cheer.
It is not just a local issue. On Feb. 1 this year, the Women's Sports Foundation celebrated National Girls & Women in Sports Day. Female athletes in volleyball, softball, and basketball were honored for their involvement, but many collegiate dancers or cheerleaders noticed they were left out.
 "I feel like women in sports get disrespected–especially with dance," said senior dance team member Karly Campbell. "The athleticism and flexibility we have to give gets challenging from time to time. We practice approximately 15-20 hours per week and our bodies get exhausted. We dedicate so much time out of our lives to dance."
When the competitive season rolls around, the Upbeats also have to run a two and a half minute routine. In this case the routine is focused more on the style and fulfilling the emotion surrounding the category of dance. Whether in dance or cheer, there are many techniques that must be done to perfection. If there are errors, there are deductions in competition. Each dance step must be practiced repeatedly until it is flawlessly perfect. 
"A lot of times people don't understand the time and how much physicality is put into dance and cheer," Caballero said. "Since you practice more physically, it gets to the point where your body knows what to do–but it's more mental so it comes down to believing whether you can do it or not. I always tell the girls to believe in themselves from the beginning. Sometimes you have to fake it until it happens."

Leave a Comment
Donate to The Marshfield Times
Your donation will support the student journalists of Marshfield High School. Your contribution will allow us to purchase equipment and cover our annual website hosting costs.
About the Contributors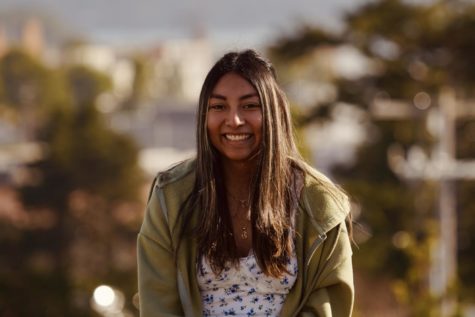 Josi Sermeno, Reporter
Junior Josi Sermeno is a first year journalism staff member. She is also a part of Associated Student Body and the cheer team. She works at Taco Bell during...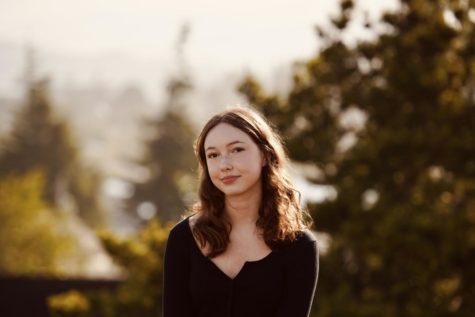 Marina Mascarenas, Reporter
Freshman Marina Mascarenas is a first year member of the Marshfield Times Journalism Staff. She is a part of the Ballet Pacific Company and has been dancing...