Oregon's bay area: A gamers' paradise
In 2022, Loren McIntyre and Brandon Burson-Johnson came together to form one of the largest gaming and hobby stores on the Oregon coast–Crypt Gaming. It stands in Coos Bay today as a safe and fun environment where many feel welcome. They host events and community activities frequently, like card game tournaments, role-playing, and tabletop gaming. 
"The player base makes it fun no matter who comes and has a different deck style and it is fun to see all aspects of each game," said Burson-Johnson. 
The player base makes hobby cards fun, no matter who plays. There are different deck styles, which makes it challenging and different. Demo decks are available at card shops like Crypt Gaming, and participants can practice playing there.
"You can sit here and play all the games you like and meet new people," said Burson-Johnson. "The easiest way to learn how is just sitting down and playing."
Younger kids can get into card games, such as Pokemon. There is even a Pokemon game day every week where adults and older kids can help the young ones get into the hobby. On Mondays and Thursdays each week, Crypt Gaming focuses on board games, and invites community members to come together to play their own board game, or borrow one they have at the store.
Marshfield High School senior Brandt Hoffman likes playing card games because of the critical thinking and the way it challenges his brain. He started playing Pokemon first, but has branched out as he's gotten older.
"I played with my little brother; we played them as a bonding activity," said Hoffman. "I have a lot of good memories, and have the most fun hanging out with friends when we get together to play."
 Brandt haffen likes playing these card games because of the  majury of play style and being able to do whatever you want and it is hard to learn how to play and his stay that he  plays. Haffen got to play pokemon  first, he played with his little brother  and they played it for fun. Haffen and his brother found playing them as a bonding time with his little brother.
There is more than one place in the community to get into gaming. Octavia Kazaar-Shafer opened Gamers' Cantina with her husband in North Bend in 2017. Prior to owning a game shop, Kazaar-Shafer worked in the banking industry. However, her husband wanted to get more involved in the gaming community, so they decided to open a shop. 
"Since we both grew up here, friends supported us and were glad to see a new card shop open," said Kazaar-Shafer. "There are a lot of critical thinking skills used in the games. Plus, people can make new friends while enjoying the same game." 
Like Crypt Gaming, Gamers' Cantina also holds tournaments for Magic: The Gathering, or Yu-Gi-Ho! In addition, they also stock board games to fit any gaming hobbyist. They have people play Dungeons & Dragons role-playing there, as well. Some of the games can get complicated, but most games can be played online, or get help from card shops. 
"The Yu-Gi-Oh! group is awesome and so is the Magic group," said Kazaar-Shafer. "They are ready to learn and teach as well."
When people come to Gamers' Cantina, they try to help match them up with someone who can help them learn, even if it's not at their store. They will refer someone to SkyNet Studios, another gaming store around the corner in North Bend–they would rather help customers fill their gaming needs and enjoy working together in the gaming community.
Leave a Comment
Donate to The Marshfield Times
Your donation will support the student journalists of Marshfield High School. Your contribution will allow us to purchase equipment and cover our annual website hosting costs.
About the Contributor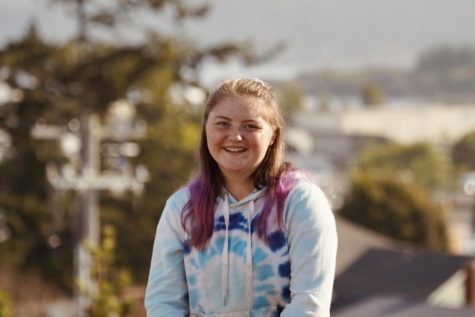 Destiny Grissom, Distribution Manager
  Destiny Grissom is a senior at Marshfield high school and happily attending her second year in journalism as the distribution manager. She joined journalism...