A community divided over flag regulations
In early January, the Coos Bay City Council decided to limit flags flown on city flagpoles to nationally recognized ones, such as the American flag and the flag of the state of Oregon. This move comes from community backlash after the city council allowed a gay pride flag to be flown during June of last year in honor of national pride month. 
Rob Taylor, of the local radio show Rob Taylor Report, was one of these individuals who were vehemently against this new policy of limiting the types of flags flown on city flagpoles. 
"I wanted to go back to the normal flag policy or to allow all flags to fly," said Taylor. "All groups should be recognized. If you only allow certain groups then that spills over to other policies."
The city council established a policy that states that they would take flag recommendations from community members, review them as a group, and then decide which flags could be flown on the flagpole near the Coos Bay boardwalk, and which would not make the cut. A short time after they updated this policy, a citizen named Kamryn Stringfield sent a request to fly a pride flag in June of 2021, among other individuals who wanted a flag of the same meaning to fly during that particular month. It passed a unanimous vote to recognize the LGBTQ+ community as part of the reconciliation movement seen across the country. 
Shortly thereafter, more requests came in, notable among those the right-ring libertarian flag by the name Gagsden, the Christian flag, and the U.K. flag. Taylor then threatened legal action to sue the City of Coos Bay if it would not fly a Christian flag along with the LGBTQ+ flag. 
"I believe in equality, not equity," said Rob Taylor.
With many people on either sides of the political spectrum in Coos County, it isn't hard to spark a debate concerning these matters. 
"I recognized that there were a few progressive moments in our city," said Stringfield. "I found that there was progress, which is a good first step for reconciliation in our community."
After much debate on what flags should and shouldn't fly, the city council decided to hold a moratorium on the flag policy. For now it will limit what flags can fly on city flagpoles. City Manager Rodger Craddock was among those who were in support of the flag policy at first, but later chose to revoke it due to threatened legal action.
"The reality of the matter is that we were faced with legal action, and we did not feel it was wise to spend our taxpayers' money on a lawsuit where it could better go to funding our police and firefighters," said Craddock. "If we took this to court, it would spend too much time and money, and right now our tax funding is tight."
Many disagreed with the reasoning, citing that we desperately need to bring awareness to this matter. 
"The city council was wrong in their decision," said Stringfield. "They based their reasoning on an outdated supreme court ruling. By doing this, the city council members distanced themselves from their community. The pride flag was decisive for the right reasons."
View Comments (2)
Donate to The Marshfield Times
Your donation will support the student journalists of Marshfield High School. Your contribution will allow us to purchase equipment and cover our annual website hosting costs.
About the Contributor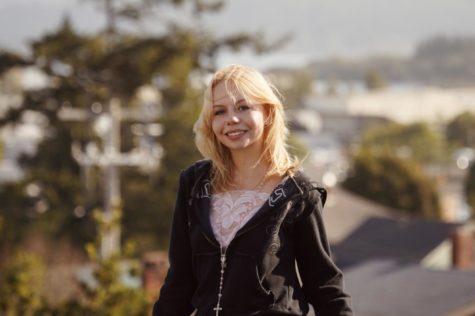 Alice Manchester, Reporter
Alice is a senior, and is brand new to journalism this year. She works as a waitress at Sumins, takes ballet classes, reads, and paints in her free time....