Historical holiday lights: A Coos County tradition
This year is a big one for Shore Acres State Park. After the holiday light show's two year hiatus due to the COVID pandemic, volunteers and visitors finally get to bask again in the LED glow of 325,000 lights and 26 Christmas trees. Cider and cookies are back, and so is Santa. All this and more has been available since Thanksgiving, and seeing how popular the show is, it is advised that those who wish to partake in the event book a day to visit ahead of time. 
While the lights have only been strung at the park for 35 years, the coastal park has been a highlight of Oregon's bay area for 80 years. It all began after a series of fires and financial losses caused Louis J. Simpson, a timber baron, to sell his estate to the state of Oregon. The year was 1942 and the seeds of the Shore Acres State Park of today began to take root. When the property first became a state park, however, it held just a fraction of its current beauty. 
"I was born in Marshfield, later Coos Bay, and have enjoyed the park for much of my youth," said Shore Acres gift shop manager Lou Kokhorst, who also graduated from Marshfield High School. "When I was in MHS, I would go to the park, which then was mostly gravel walkways and cherry trees." 
Even after he moved, the park called to him and he eventually fled back home with his wife Sharon Kolkhorst. The pair began volunteering 11 years after the holiday lights show began. At that point, the lights were a focal point of the holiday season on the coast; it originally started out very small. With its spectacular sculptures and insanely gorgeous lights, it's hard to imagine that it all started with just 6,000 mini-lights and a single Christmas tree. 
"We put out, the first year, a very modest display of lights just to see if anyone would drive down this dark and winding road at night," said David Bridgham, one of the founding members of the Friends of Shore Acres.  
In the event's first year, which drew in around 9,000 visitors, David Bridgham noticed that the garden house was one of the most widely appreciated pieces. Due to its historical value, it was often locked up. But during the holiday season it was opened to the public and decorated in all its entirety. Santa in the Bathtub, located upstairs, was one of many displays within the house.
"I get such a kick of being downstairs and at the guestbook registration desk," he said. "Kids come busting through the door and I say 'You go upstairs and check!' And they come back down with the most imaginative reasons of why he's in the bathtub."
Over the years, the beloved light show has grown a massive following of not only visitors but also volunteers, who begin stringing lights in October each year.
"It's absolutely outstanding how many volunteers we have had that are so excited to do it," said Friend of Shore Acres founder Shirley Bridgham. "And most of them are people who've done it before. We've had some new people who've also gotten very excited."
Whether it be returning or new volunteers, it's evident that many of them love what they do. They can be seen on weekends throughout October and November stringing lights, erecting lighted displays, or driving golf carts along the well-manicured walkways to transport totes full of lights. 
"We're accomplishing something, and we're helping the community," said Bill Davis, a very active volunteer at the park. "The fact is in three decades, I've never had a bad day here. Even if it's always raining, it's never a bad day. It's just a beautiful place to be." 
Even MHS students have gotten in on the action. Many different clubs and sports teams have helped string lights over the years. And others have signed up to host refreshments at the garden house. Key Club member Trevor Robbins was a first time volunteer this year and plans to attend the event later on. 
"I really like Shore Acres and wanted to go out there to experience setting up the lights for the first time," said Robbins. "I haven't even been to the lights before."
Aside from the last two years, the Shore Acres Holiday Lights have become an integral part of the holiday season for many local residents and visitors alike. It is common to see large groups of family or friends huddling together at the park after having dinner, or meeting at the park and enjoying refreshments afterward. On certain nights, there are even carolers that gather in the covered gazebo area to spread the holiday cheer.
"I love the whole thing," said Sharon Bridgham. "We are so fortunate to have the privilege of helping Shore Acres State Park. This has made it possible, year after year, because we get more visitors due to the lights because people come back! It's all wonderful." 
Showgoers must be prepared to reserve parking this year ahead of time. Cost is $5 per vehicle, and passes must be printed and brought to the park the day of the visit. Current state park passes and veteran's passes will be honored in lieu of the $5 parking reservation fee. For more information visit https://bit.ly/2022holidaylights or call 800-452-5687.
Leave a Comment
Donate to The Marshfield Times
Your donation will support the student journalists of Marshfield High School. Your contribution will allow us to purchase equipment and cover our annual website hosting costs.
About the Contributors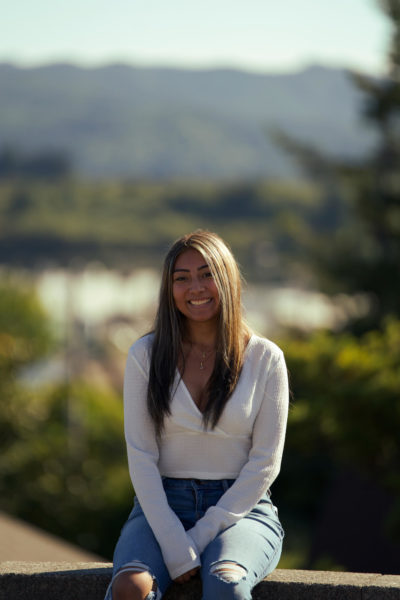 Josi Sermeno, Reporter
Senior Josi Sermeno is a returning journalism staff member. She is a part of the Associated Student Body and the cheer team. She works at Taco Bell during...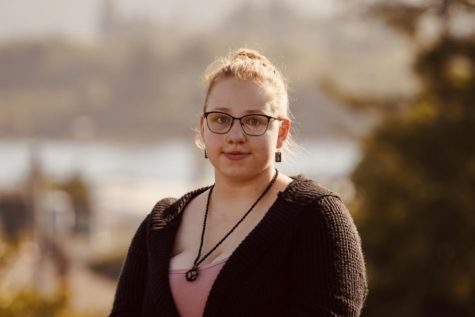 Aubrey Brooks, Copy Editor
Senior Aubrey Brooks is continuing her second year with The Marshfield Times staff. Most of her time consists of trying to knock books off her reading...