New Baseball Coach is a Hit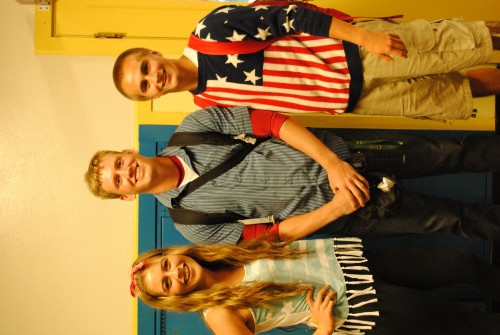 A new coach is up to bat.
Math teacher Kevin Guthrie is the head coach after two years as an assistant coach under Scott Carpenter, a Marshfield graduate and baseball player.
"I'm looking forward to being the head coach. It was kind of nice being an assistant because I could just show up and coach the players," Guthrie said. "But it will be nice being in charge."
Guthrie now takes on the responsibility of organizing practices and managing finances for the team with the help of assistant coach Bruce Bryant.
Guthrie said he has new ideas to bring to the program.
"We are going to emphasize being more active during practice, making sure guys are doing more things, more often," Guthrie said.
Guthrie has experience with baseball, from playing in high school and college to coaching as well. He coached baseball for multiple years in Ohio, was a freshman coach at Glencoe High School and coached varsity at Taft High School for two years.
"I would like to get the program established, get things in place where we can be competitive every year and challenge for league titles and move deep into the postseason," Guthrie said.
Senior Ben Martin said he likes Guthrie as the head coach, and he definitely deserves the position.
"He's more serious about the game of baseball," Martin said, "It's a very mental game and he is making sure that all the kids realize it."
According to junior Braden Denton, Guthrie cares a lot about the program and is all about being a team.
"Guthrie being the head coach is the best thing that could've happened for our program," Denton said, "He is a great coach and wants us to succeed to our maximum potential."
Denton said the team's goal is to win a state title, but to get there they must take it step by step.
"First we need to win our league and make the playoffs, then focus on winning a state title," Denton said.
In order for the team to play in the postseason, they must finish in the top three in the Far West League.
"The goal this year is definitely to qualify for the postseason," Guthrie said. "And getting there is a very realistic goal."
Leave a Comment
Donate to The Marshfield Times
Your donation will support the student journalists of Marshfield High School. Your contribution will allow us to purchase equipment and cover our annual website hosting costs.