Straying From the Status Quo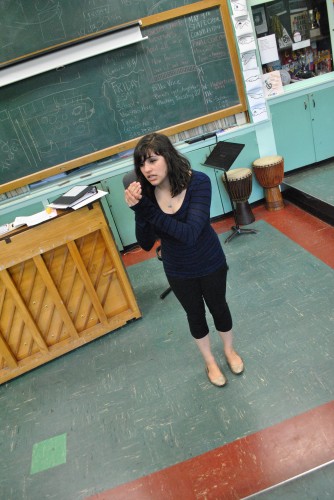 Through art, collecting and other various ways, sophomore Shyanne Bolton expresses herself. She does not shy away from who she is and what she enjoys doing.
The teen years may feel like they are jammed full of fake people passing by without a real feeling or relationship in sight. This is not the case for everyone.
One may know her first by her head full of decorated dreads, but there is more to sophomore Shyanne Bolton than her hair.
Although she uses her image to express herself, her close friends recognize her best quality as caring for others. Brynna Sherley, a 2014 graduate, has been friends with Bolton for over a year now and said their connection is deeper than the time allotted.
"Shyanne has been more of a sister to me than a friend," Sherley said.
In a decisive time in Sherley's life where she needed help, she looked to Bolton for advice. Even today, she said she appreciates the support because it lead her to her success in graduating early and attending culinary school in Portland.
"She was a huge part of that decision," Sherley said. "I knew that if I had any concerns or doubts in myself I could go to her for advice."
Bolton has a variety of hobbies, from drawing, painting with acrylics and watercolors, to body painting and collecting pinecones. She also volunteers with the Maslow Project, Boys & Girls Club and helps elderly people with household chores.
Although she draws every night and occasionally doodles in class, Bolton opts to give her art away to friends. She said it is because she is not confident in her work; however, Sherley said otherwise.
"It's beautiful," Sherley said. "There's something about the heart she puts into it for others."
The friends surrounding Bolton are not like most others. Juniors Magdalena Casas, Cassidy Keller, Jessica Kohl, CeAndra Nelson, sophomore Rachel Simon and others make up her unique group of friends. According to Bolton, they are all very accepting. She said Keller is her outlet for advice because she persuades her to do what she wants regardless of what others think, and Kohl is loving and always tries to do her best. Together, they make a difference in this school just with a smile or an uplifting post.
As a New Year's resolution, Bolton joined a group of friends including Keller, Kohl and Nelson to become vegan. She said it had opened her eyes to the amount of animal products people use in daily life and has also had a benefit to her health. Bolton spends a lot of her time in nature as well.
Nelson said when she hangs out with Bolton, it is likely that they are outside. She described the group as "nature-y" people.
"Me and Shyanne are really big on the litter [issue]. It really upsets us," Nelson said.  "It's basically all of our friends, we just care about where we live."
According to Nelson, they are generally very calm and relaxed people. They rarely fight within themselves, which creates a drama-free environment.
"We don't really care what people do with their lives," Nelson said. "If they want to be who they are then that's totally fine."
Bolton said she also enjoys forensics and theatre, which she has participated in for two and three years, respectively.
Forensics coach Kayla Crook said Bolton is very helpful, and her uplifting personality gets others motivated. Crook said her main strength is humorous interpretation.
"She's a funny girl; she makes us laugh daily in class," Crook said. "It just comes naturally to her."
While some may think Bolton is interesting just in the way she appears, there are many aspects that may not be seen on the surface.
"Shyanne has had a lot of personal issues that she has overcome. She still stays strong for other people, and she cares for other people," Crook said. "She just has an interesting view on the world that a lot of teenagers don't have and that brings depth into all of her relationships."
Leave a Comment
Donate to The Marshfield Times
Your donation will support the student journalists of Marshfield High School. Your contribution will allow us to purchase equipment and cover our annual website hosting costs.