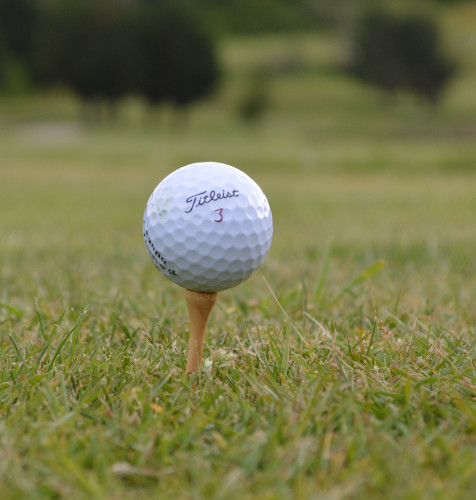 As the end of the 2016 season nears, the boys golf team is optimistic.
According to head coach Scott Banks, the main goal is to take the team to the OSAA state tournament and finish in the top three.
"I think we have probably the third or fourth best team in the state, but three of the top five teams in our state are from our region," Coach Banks said.
The team lost three seniors last year so younger, less experienced players have stepped up.
Senior Kasey Banks, junior Jack Larson and sophomores Dhiren Charitar, Justin Banks and Jake Gerhardt make up the varsity team.
"This year the team is very inexperienced," Coach Banks said. "Only two guys have played varsity in the past."
Coach Banks' son, Kasey, has been playing on the varsity team since he was a freshman and Larson played on varsity last year.
"Golfing for Marshfield is really fun. It's the best team I've ever been a part of," Larson said. "We have had a lot of success in the recent years and that really motivates me to keep getting better."
According to Coach Banks, in previous years, the team has been made up of players who shoot similar scores, but this year the scores are so spread out that there hasn't been much competition for the varsity spots.
"We have two guys that can shoot in the 70s, two or three guys that can shoot in the 80s, and then it goes all the way to guys that can shoot in the mid 100s to 120s," Coach Banks said.
This is Banks' 13th year coaching the team.
Every week day, the team practices at Waston Ranch Golf Course and the players try to play on the weekends if they have the time.
"I enjoy coaching golf. I get to see improvement daily," Coach Banks said. "All the kids on the team have different skill sets."
According to Kasey, the team usually shoots a score of about 350 in tournaments.
"We had a rough start, but we're getting a lot better and have improved 60 strokes since our first match," Kasey said.
According to Coach Banks, it will all come down to how the team plays at the regional tournament on May 16 and 17. If all goes well, he said the team has a legitimate chance to get a trophy at state.
"Every tournament we're improving," Charitar said.
In addition to Banks, the assistant coach is Matt Larson, who helped the team last year as well.
"He has really helped out with the team," Scott said. "It's been great allowing me to help with individuals."
With only Kasey graduating this year, there will be 11 returners next season.
"The future of the golf program looks great," Coach Banks said.